Do you have interest in your kitchen to make magic with a kitchen mural? This is possible from 150 =. It makes for the ultimate eye-catcher when cooking. A mural can be as desired and are customized for your home or at work in the canteen.
Mural in Meerkerk, specially performed in the kitchen.
a pair of recently Meerkerk of kitchen mural let make at Swid'art. an abstract, tight yet playful appearance is put away in the kitchen. It had to be an Amsterdam theme and is speared with multiple vanishing points and color contrasts. This creates a beautiful and stylish look in the kitchen! We worked with brushes Liquitex, Amsterdam paint acrylics and Windsor & Newton up happy concrete, without templates. This went smoothly put. The idea that week on the design; it had to be placed in a corner. It created a nice playground for perspective. From the dining table you can see how that looks in the canals of Amsterdam! The perspective and the outlines were quite a challenge, but the end result is; a beautiful appearance!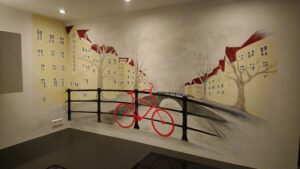 Also interested in a mural? Swid'art also provides:
Mural Rotterdam
Mural Utrecht
Mural Hague

Mural Meerkerk
Something for you at home, or for work? Click on murals in the menu above for more information.
Also, look for a kitchen mural near Meerkerk?
Click on murals in the menu above for more information. Swid'art fact has several styles
how this can be done. A mural can be done completely customized and desired for a nice look at the nursery. Obviously there are many more possible! Knowing more?
Contact us via the form below, of bel naar 06 305 808 14