Iedereen die tekent, of schildert heeft wel een eigen stijl ergens in. Dat kan kan van alles zijn. Maar wat laat je opvallen? Waarmee kun je vooral jezelf onderscheiden? Door continu hiermee te innoveren en nieuwe technieken uit te durven proberen. Met veel vallen en opstaan heb ik het geleerd en tot op heden leer ik nog steeds elke dag bij.
Een goed voorbeeld hiervan is de laatste opdracht van Kaatje-jans in Oosterhout. Er moest een muurschildering worden gemaakt. Een vrij grote van 3 x 3m. Nu was het niet mijn eerste muurschildering, maar wel de grootste die ik top op heden gemaakt heb. Nu had ik hier van weg kunnen schrikken, ook omdat het veel technieken had, die ik nog nooit op een muur eerder had gedaan. Maar dat deed ik juist niet. In plaats van terug te schrikken, pakte ik de uitdaging aan. Een gokje? Misschien, maar ik ben van mening;
Je gaat pas echt groeien als je uit je comfortzone stapt en het risico neemt om te vernieuwen.
Wat ook belangrijk is, is dat je de punten aangrijpt die voor jou het beste bij elke techniek passen. Ik ets het liefste met inkt als ik middeleeuwse kunst, gebouwen of dieren moet etsen. Met houtskool doe ik het liefste portretten. Ga ik schilderen, dan heb ik juist weer een hele abstracte stijl met o.a. graffiti en Herman Brood achtige elementen.
Een stijl die me zeker bij blijft is middeleeuws. Deze stijl doet het erg goed met het etsen in inkt. Laatst kreeg ik spontaan het idee om om weer eens te gaan tekenen. Liefst een middeleeuws beeld, zoiets als een stadsaanzicht. Zonder voorbeeld, dus compleet uit het hoofd. Ik had alleen kort wat oude werken van Albrecht Dürer en Pieter Bruegel bekeken om een idee te ontwikkelen en wilde de stijlen samen combineren. Daar kwam het volgende fantasiebeeld uit;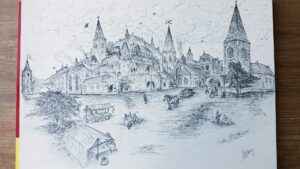 Maar er is immers veel meer mogelijk. Kijk rustig door de portfolio's of neem contact met me op. Hou Swid'art in de gaten voor het laatste nieuws of interessante acties.
Yours sincerely,
Yvo Swider