Heb je ook interesse om je winkelpand te laten versieren met een winkel muurschildering? This is possible from 150 =. Het zorgt voor een stijlvolle eye-catcher tijdens het shoppen. Een muurschildering kan geheel naar wens en op maat worden gemaakt voor in een winkelpand. Of je nu kleding, gereedschap, of delicatessen verkoopt. Voor een winkel muurschildering ben je bij Swid'art aan het juiste adres voor een muurschildering laten maken.
Een winkel muurschildering in kippen thema

,

speciaal uitgevoerd in Oosterhout

.

Zoek je ook naar een betaalbare winkel muurschildering als versiering voor in je winkel? Bijna alles is mogelijk voor een prachtige uitstraling in je winkel. Hier kun je een mooi voorbeeld zien van een project in Oosterhout voor een muurschildering in een winkel.

Onlangs heeft een eigenaresse een winkel mural let make in een winkel in Oosterhout door Swid'art. Een speels, maar stoer karakter is weggezet in de winkel. Het moest een kippen thema muurschildering worden voor in een delicatessen winkel en er is gespeeld met diverse kleuren. Dit zorgt voor een mooie en stijlvolle look achter de toonbank! We worked with brushes Liquitex, verf van Amsterdam acrylics en Spuitverf van Molotow op glad beton, without templates. This went smoothly put. The idea that week on the design; het was slechts een grove schets. Toch ontstond er hierdoor een mooie speelruimte voor perspectief. Het ruwe karakter geeft het winkelend publiek wat sfeer. Terwijl de winkel nog druk in aanbouw was werd van tevoren eerst de voorzijde versierd met een mooie winkel muurschildering aan de buitenzijde in de vorm van een graffiti.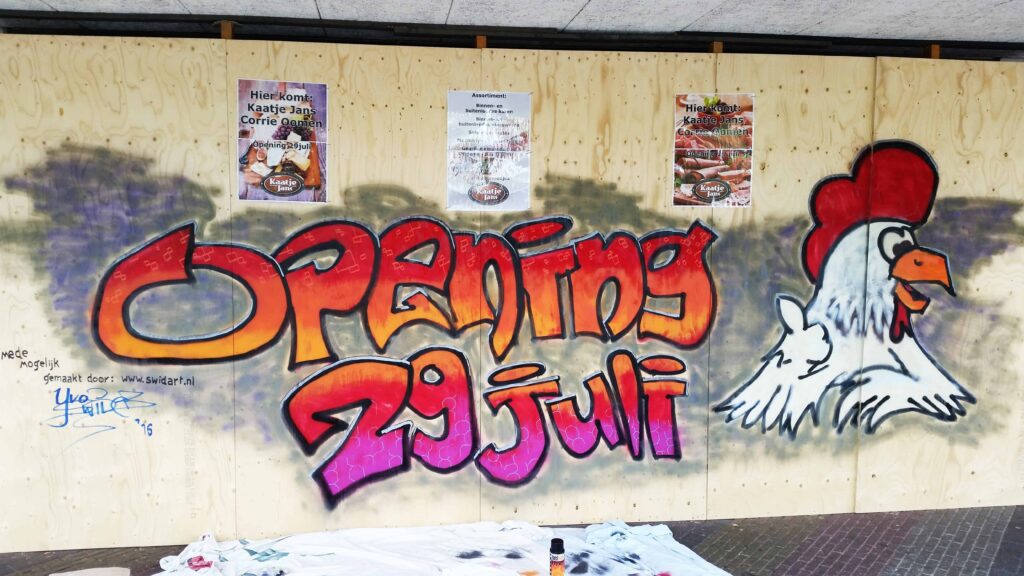 Met de aanbouw compleet

,

werd ook de muurschildering in de winkel van Kaatje-jans verzorgd door Swid'art

!

Terwijl het winkelend publiek kon genieten van een mooie buitenwand, werd er ondertussen aan de binnenkant van de winkel druk gewerkt aan de muurschildering in de winkel. Deze moest achterin de zaak komen, mooi in beeld voor klanten die binnen zouden komen. Hier kun je een mooie close-up zien van het werk.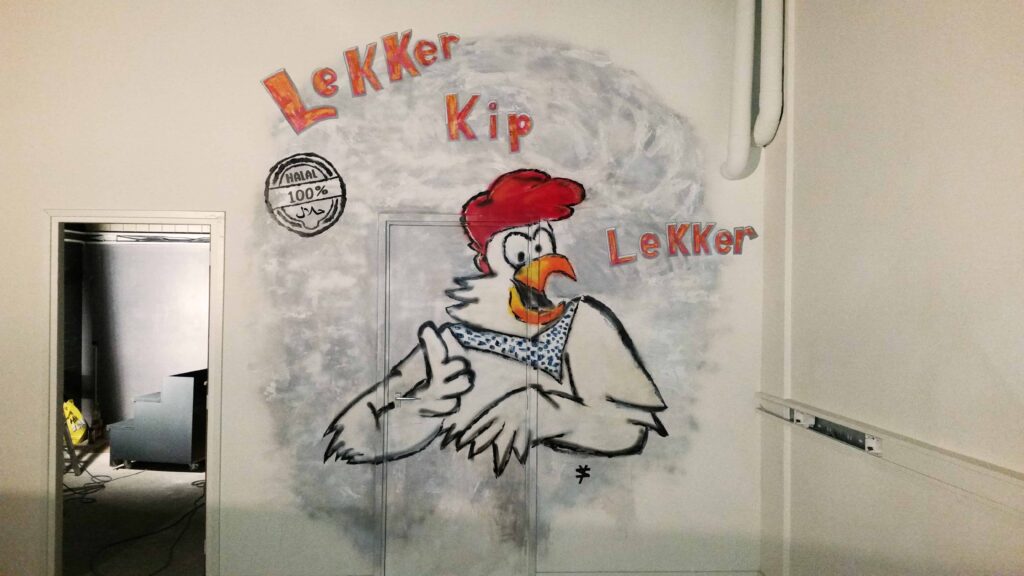 Het complete plaatje van de muurschildering in de winkel
Het complete plaatje muurschildering in oosterhout werd een mooi geheel en een absolute 'spreker' voor de ruimte. Op het moment dat je in de winkel binnen liep zag je de muurschildering mooi over de deur heen geschilderd. Een leegte was opgevuld met een mooie afbeelding.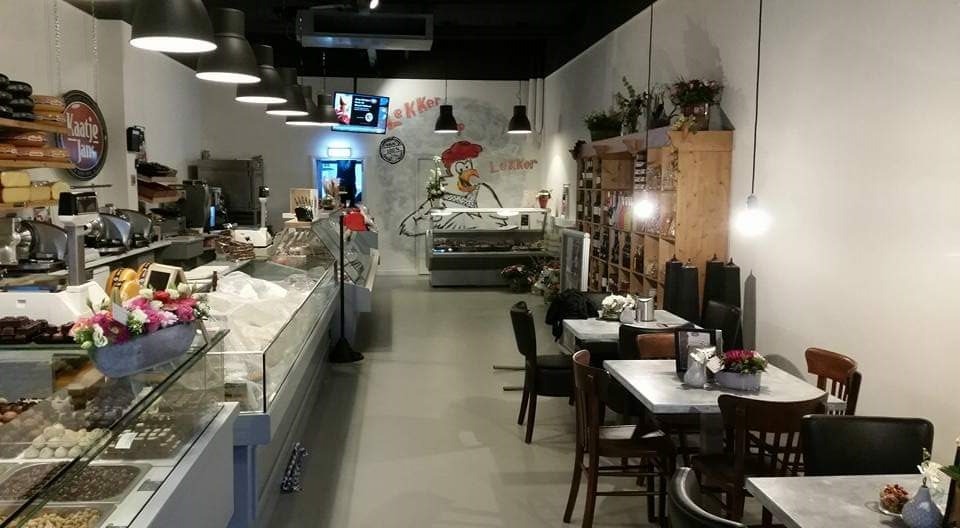 Ook interesse in een winkel muurschildering in oosterhout? Andere bezoekers zochten ook op:
Muurschildering in winkel

Muurschildering Oosterhout
Something for you at home, or for work? Click on murals in the menu above for more information.
Ook op zoek naar een winkel muurschildering voor je eigen winkel

?

Click on murals in the menu above for more information. Swid'art fact has several styles
how this can be done. Een muurschildering kan geheel op maat en naar wens worden gedaan voor een mooie uitstraling op de babykamer. Obviously there are many more possible! Knowing more?
Contact us via the form below, of bel naar 06 305 808 14