It's been a year already that Swid'art in the air. Sinds de start eind Augustus 2013 there is therefore much happened.
Therefore, it seemed like fun to look back at what has been happening and of course things that are yet to come back.
Swid'art begon in 2013 as a company for making portraits and abstract art. It all started after a long period
of unemployment. Between applying for jobs I was looking through the necessary distraction. One is sports in such a period, the other picks up an old hobby.
The latter was especially true of me. I suddenly had plenty of time and all the stuff is going to draw.
That was the sweetest thing I did. After x number of examples on Facebook to see beyond come from drawn eyes,
I myself decided to go a sign of my own left eye.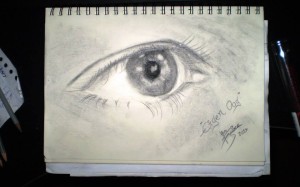 I put the picture on Facebook and got many responses. So much so that I did not long after decided to start making more.
Increasingly, I received responses and decided to take my former company YTSWebdesign to go to baptize Swid'art.
It followed a series of commands, and in November 2013 I was approached, to my first exhibition to go even keep!
During this exhibition, I was allowed to make a painting commissioned.
Begin 2014 came to participate in the Van Gogh art route discussed.
I drew and painted to their hearts to make something beautiful out of it again.
But whether it is good enough to compete.. Oh well you can always try, I thought.
After a short selection of my work in pictures to send, was my job to my surprise transmitted to participate.
It has been quite a success; during the art trail, I got a lot of claims and even sold work.
During the art route I was also approached to my very first mural to be able to make with a broker, where this came from.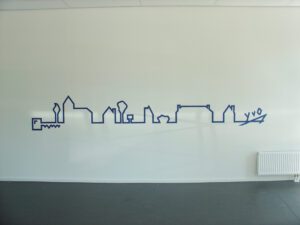 At the end of the art route, I was once approached to create a mural.
Dit ging over een paar abstracte paardenbloemen op een balkon.
Er volgde na de kunstroute nog een expositie in het Arboretum in Oudenbosch, waar ik intussen ook druk
aan het ontwerp voor de muurschildering van de paardenbloemen bezig was.
Dit werd een eigen ontwerp. Een paar abstracte paardenbloemen op een grijze muur.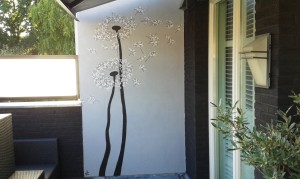 De muurschildering van de paardenbloemen is inmiddels opgeleverd. Daarnaast hangt nu ook een klein deel van mijn collectie
in 'de Nieuwe Winkel'. Je kunt hiervoor langsgaan bij de Tolbrugstraat 24 in Breda.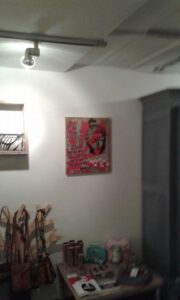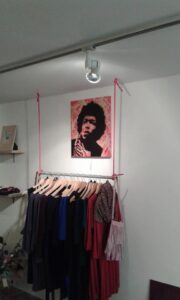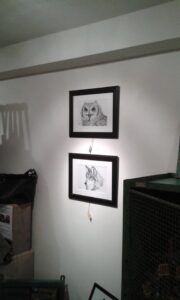 Verder probeert Swid'art langs alle kanten meer bekendheid te vergaren, zij het via acties op FaceBook, dan wel
via exposities.. Maar Swid'art blijft bezig! Wat ooit begon met tekenen, heeft zich in een jaar tijd alleen maar meer uit weten te breiden.
Of het nu om portretten gaat… of abstract schilderwerk, of muurschilderingen. Het kan allemaal!
I will keep you informed.
Yours sincerely,
Yvo Swider