Een muurschildering voor in de slaapkamer in Gilze? Een slaapkamer muurschildering is al mogelijk vanaf 150,=. Bekijk deze pagina voor de mogelijkheden voor een muurschildering op de slaapkamer, where we work with the utmost passion! Swid'art levert muurschilderingen bij iedereen op maat. This time two pieces for a family in Gilze. The parents of the family wanted a nice, decorative magnolia branch have in the bedroom and a cool room in cyclist theme for their son. We worked with brushes and paint Amsterdam Liquitex acrylics on coarse fiber wallpaper, without templates. A mural making requires a lot of patience, but also brings enormous passion with him. The result is there are. Both were very happy with the result.
Ook iets voor jou thuis, or for work? Click on murals in the menu above for more information.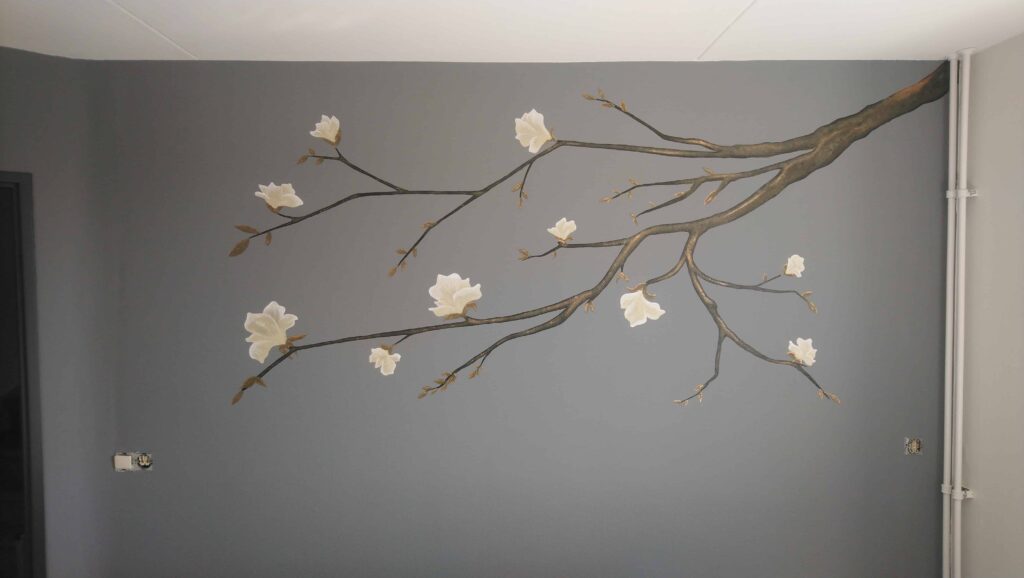 Een slaapkamer muurschildering laten maken

, what and how?

Painting is my hobby. Following painting drawing as a hobby, I am approached by others to create paintings. This has become creating murals, but also abstract paintings, geboorteborden en andere creatieve uitingen. It is also possible to make a mural for outdoor. Aslaapkamer muurschildering in Gilze laten maken takes about 1 day. This depends on the dimension, details en de ondergrond van de muurschildering. During that lets you create a mural will be on view through Swid'art:
Ik kom persoonlijk langs om de slaapkamer muurschildering te bespreken en op maat te maken voor uw inrichting

.

Ook neem ik een beamer mee om een duidelijke presentatie te geven

. While you are going to make a mural all possibilities are discussed by Swid'art.
I'm pretty ready quickly, often within a day already.
I work from pure passion and involve my clients in person as much as possible with the process; each step they get to see until the end result.
I leave no mess behind and work clean; , So no mess afterwards, as I that self cleanup and possibly drain.
The paint is odorless, so after putting the mural that evening can be slept in the room.
My prices are always competitively priced; Everything always includes the cost of materials.
Interesting for entrepreneurs; My prices are also deductible VAT.
I have a lot of experience in creating art and decoration, by painter- and sketching techniques. Whether you're a kid, teen room, living room, or want to create workspace mural; Swid'art when you are at the right place!
Swid'art strives for sustainable quality. Ik werk daarom uitsluitend op glasvezelbehang, glad gestucte muren, glad concrete, or a smooth brick wall. The smoother and cleaner wall, the better the result.
Therefore, it is important that the wall in question (reasonable) clean and dry.
WAT ZIJN DE MOGELIJKHEDEN VOOR EEN SLAAPKAMER MUURSCHILDERING BIJ SWID'ART
Eigenlijk kun je het zo gek niet bedenken; bijna alles is mogelijk om op de muur te schilderen. Het is wel van belang dat je het idee voor de muurschildering helder op papier hebt. De onderwerpen kunnen van alles zijn; as a picture of trees, of stars, een hobby, but also a nice wall text. For Baby- or children are images is a playful and magical look very nice. Wanneer je zelf een geschikt idee hebt, kan ik een vrijblijvende passende offerte opmaken. De totaalprijs is inclusief BTW, zo komt u achteraf in elk geval niet voor verrassingen te staan. Een kleine bedroom muurschildering laten maken is possible from € 150,- including VAT. The price depends on the size of the painting, the surface (a smooth wall is finished faster) and the amount of detail.
Here are a few examples of recent work;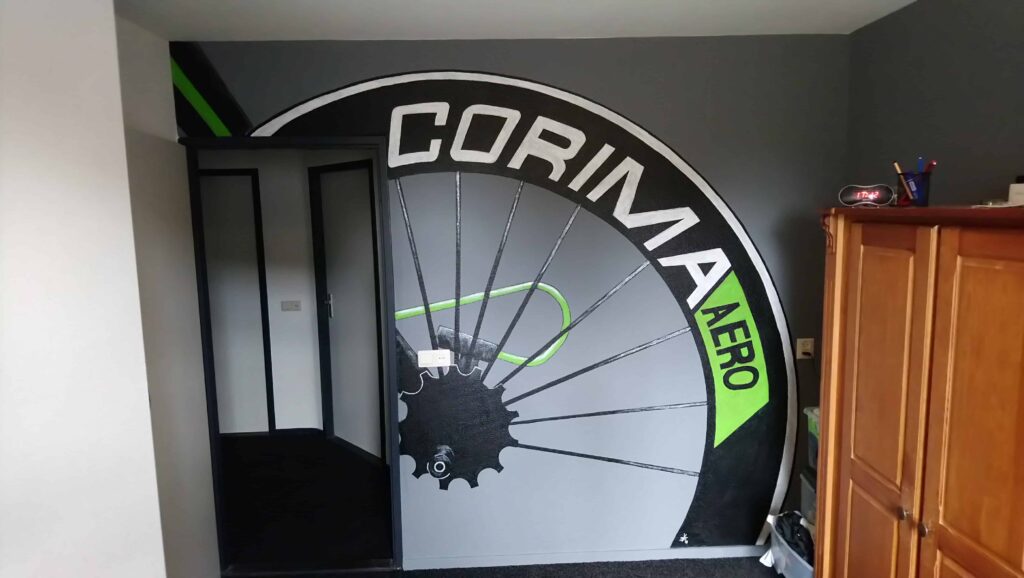 Ook interesse in een slaapkamer muurschildering

?

Fill in the form below.