Je hebt net een nieuw huis, of bedrijfspand gekocht. Alles ziet er mooi uit, behalve de muren; die zijn leeg! Je twijfelt over een muurschildering, maar weet niet wat je bij een Making mural itself kunt verwachten? Geen probleem! Vind hier je inspiratie voor een muurschildering! Er zijn genoeg ideeën om zelf een muurschildering te maken. But, je kunt natuurlijk ook door Swid'art je muurschildering laten maken. This is possible from € 150, = (excl. travel expenses).
Acreate mural,nl gives a unique look to your example, living or working space. Aan de hand van je wensen wordt er een passend concept voor de mural drafted. Tijdens dit proces begeleid ik je vanaf het lege begin, tot een volwaardige opgeleverde muurschildering. Afhankelijk van wat je zelf het liefste hebt, is het voor mij ook geen probleem om vooraf langs te komen en via een beamer op de muur mijn concept te presenteren. Op deze manier krijg je direct een goed beeld, over hoe het muurschildering op de muur komt te vallen.
Zo ontstaat er direct een helder beeld over een muurschildering maken. Mede door de visuele traktatie vooraf zul je algauw merken hoe gepassioneerd Swid'art in het vak staat van een muurschildering laten maken; Ik zal er alles aan doen om de uitstraling van de betreffende ruimte écht te laten spreken met een muurschildering! Ook zal deze uniek zijn; je zal de muurschildering geen tweede keer aantreffen. A mural them made by Swid'art, is een muurschildering van topklasse, where we work with the utmost passion!
Je muurschildering maken door Yvo Swider

; what can you expect?

Kunst, tekenen en schilderen is mijn diepste passie. Wat op school ooit begon met tekenen als hobby mondde later in mijn leven uit tot het maken van kunstwerken en vanaf daar werd het algauw een sneeuwbal effect, waar ik nog dagelijks van geniet! Niet alleen omdat een muurschildering maken je omgeving doet opleven, maar vooral ook de mensen waarvoor je het doet. Hier komen vaak erg mooie reacties uit! Het is dan ook een erg lonende passie, die qua emoties onbetaalbaar is. Naar aanleiding hiervan, word ik door regelmatig benaderd om een muurschildering te maken. Dit kan zowel binnen als op een buitenmuur zijn. Naast dit, is het ook mogelijk om abstracte schilderijen en houtskool portretten te laten maken. My method is characterized by:
Een persoonlijk gesprek

,

waarbij we samen tot een goed concept komen

.

Ik maak daarop een ontwerp wat ik vervolgens via de mail verstuur

,

ofwel persoonlijk kom presenteren

.

Vaak binnen één dag al klaar zijn

.

Ik werk vanuit de volste passie om mensen te verwonderen en betrek daarom mijn klanten zoveel mogelijk met het gehele proces

; each step they get to see until the end result.

Ik laat niets achter en werk clean

;

Dus geen schilder afval achteraf

, as I that self cleanup and possibly drain.
The paint is odorless,

zodat er na het zetten van de muurschildering diezelfde dag nog eventueel in de kamer gewerkt/geslapen kan worden

.

Mijn prijzen zijn scherp geprijsd

; Everything always includes the cost of materials, so no surprises!

Goed om te weten voor ondernemers

; My prices are also deductible VAT.
I have a lot of experience in creating art and decoration,

middels diverse technieken

.

Voor het beste resultaat een goede ondergrond erg belangijk

; Ik werk daarom uitsluitend op glasvezelbehang,

glad stucwerk

, glad concrete, or a smooth brick wall. The smoother and cleaner wall, the better the result.

Swid'art werkt o.a

.

met de volgende verf

;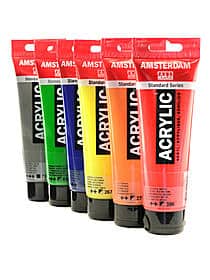 Wat zijn de mogelijkheden bij een muurschildering maken

?

Basically, almost anything is possible to paint on the wall. Een goed concept is het halve werk; ik maak daarom graag het idee bespreekbaar zodat er vooraf een helder idee ontstaat. Een muurschildering maken kan vele onderwerpen hebben; bijvoorbeeld een afbeelding van bomen en planten, een specifiek thema dat kinderen en/of jongeren aanspreekt, je eigen hobby, of een stijlvolle tekst. Voor jonge kinderen zijn abstracte vormen, speelse vormen en tekenfilm figuren erg in trek. Heb je zelf een geschikt idee, dan kan ik een vrijblijvende offerte van de muurschildering voor u maken. To post are not in any case be confronted with surprises. Here are a few examples of recent work;
Wat de minimale kosten van een muurschildering maken
Creating a mural is al mogelijk vanaf €150! (Excl. travel and parking fee).
Important questions that may determine charges, his o.a.
Wat is de grootte van de muurschildering

?
Does the design one color, or should it be more colors?
Standing wall within, or outdoors?
The wall an issue smooth or granular structure?
How complex is the concept?
What is the travel time (0,19ct per km)
INTERESTED IN A MURAL AT HOME OR YOUR COMPANY?
Want to know more about the possibilities, to make a unique mural for example your room or the nursery?
Please contact form below. You can also directly reach me by phone: 06 – 30580814.