You have to create ideas for a mural, but you find yourself chores too much hassle? Geen probleem! You can come from Swid'art €150,= (excl. travel and parking costs) also your muurschildering laten maken. It gives a vibrant look to the example interrior of your home or workspace. You opts design what they want to make mural on the wall. From beginning to end, I take you through the process. A blank wall, a wonderfull mural, where you can watch with pride! During this process I will show you step by step, so that the mural 100% matches with your interior, corporate and personal needs.
I will gladly stop by advance, to look together to the opportunities. So you can make a mural with full assurance that is appropriate on all fronts. One thing is certain: You will mural never encounter a second time. A mural them made by Swid'art, is a mural where we work with the utmost passion. Interest? Contact us via the form below!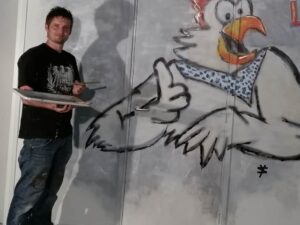 Een muurschildering laten maken, what and how?
Painting is my hobby. Following painting drawing as a hobby, I am approached by others to create paintings. This has become creating murals, but also abstract paintings, birth signs and other creative expressions. It is also possible to make a mural for outdoor. A muurschildering laten maken takes about 1 day. This depends on the dimension, details and the background of the mural. During that lets you create a mural will be on view through Swid'art:
I personally come by to discuss the mural and create customized for your device. I also bring a projector to give a clear presentation. While you are going to make a mural by Swid'art, all possibilities are discussed.
I'm pretty ready quickly, often within a day already.
I work from pure passion and involve my clients in person as much as possible with the process; each step they get to see until the end result.
I leave no mess behind and work clean; , So no mess afterwards, as I that self cleanup and possibly drain.
The paint is odorless, so after putting the mural that evening can be slept in the room.
My prices are always competitively priced; Everything always includes the cost of materials.
Interesting for entrepreneurs; My prices are also deductible VAT.
I have a lot of experience in creating art and decoration, by painter- and sketching techniques. Whether you're a kid, teen room, living room, or want to create workspace mural; Swid'art when you are at the right place!
Swid'art strives for sustainable quality. Ik werk daarom uitsluitend op glasvezelbehang, glad gestucte muren, glad concrete, or a smooth brick wall. The smoother and cleaner wall, the better the result.
Therefore, it is important that the wall in question (reasonable) clean and dry.
THE POSSIBILITIES FOR MURAL HAVE CREATED BY SWID'ART
Actually, you can not name it; bijna alles is mogelijk om op de muur te schilderen. Het is wel van belang dat je het idee voor de muurschildering helder op papier hebt. The subjects can be anything; as a picture of trees, of stars, a hobby, but also a nice wall text. For Baby- or children are images is a playful and magical look very nice. If you have a suitable idea, I can make a free appropriate offer. The total price includes VAT, zo kom je achteraf in elk geval niet voor verrassingen te staan. A small muurschildering laten maken is possible from € 150,- including VAT. The price depends on the size of the painting, the surface (a smooth wall is finished faster) and the amount of detail.
Here are a few examples of recent work;
Nursery mural Kaatsheuvel

Bedroom wall painting with text

Office mural Digidentity entrance

Winkel muurschildering in Oosterhout

Mural Sliedrecht hall face

Abstract mural bedroom

Nursery mural Tilburg

Kitchen mural perspective

let make garage mural

A garage door mural painting show by Swid'art

Mural teen room cyclist theme

Mural bedroom magnolia branch

Mural children,,nl,Permanent Link to Mural nursery,,nl

Shop mural Oosterhout

Shop mural graffiti

Abstract mural of dandelions in Etten-Leur on a balcony

An abstract mural in a real estate office space
What is the cost to make a mural
Een muurschildering laten maken is al mogelijk vanaf €150! (Excl. travel and parking fee).
Important questions that may determine charges, his o.a.
What is the size of the mural that needs to be done?
Does the design one color, or should it be more colors?
Standing wall within, or outside?
The wall on a smooth or granular structure?
How complex is the concept?
What is the travel time (0,19ct per km)
DO YOU ALSO HAVE TO MAKE A MURAL?
Want to know more about the possibilities, to make a unique mural in your home or at your business?
Please contact form below. Also, you can directly reach me by phone: 06 – 30580814.