If you live in the province of North Brabant and want to make a mural? Read on. Swid'art specializes in murals and is happy to help you get started. If you want a mural in Brabant or environment to spice up the nursery or baby room? Or are you just looking for a painting for your bedroom or living room? In Yvo everything is possible. You provide a clear idea on paper, with just one or a few images and Yvo ensure that this is achieved. It takes full account of your wishes in terms of color, size and also ensured that the painting matches your interior.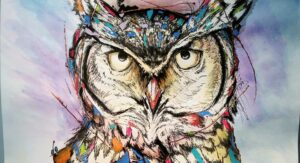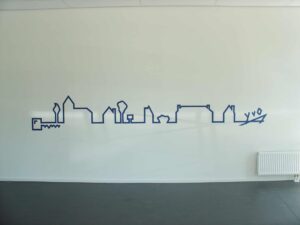 Mural in Brabant Yvo Swider
The province of Noord-Brabant, characterized by the Brabant Burgundian hospitality. To date, more murals in Brabant completed. Spread of Bergen op Zoom to Den Bosch stand. If you are looking in Brabant for a unique mural for the nursery, children's home, then you've come to the right place Swid'art. A mural gives your room a distinctive look that you have fun every day.
Want to make a mural in Brabant? Please feel free to contact me. I started drawing and sketching, what later evolved towards making murals. Think of texts, birth signs, murals for interior- and outside, but also abstract paintings. Together with you, I see step by step what your needs are and how we come to the realization of a beautiful mural that you see nowhere else.
A mural in Brabant with character
Before Swid'art starts with the realization of a mural, he identifies exactly what your needs. It is useful if you have already selected some ideas of what you want to have painted on the wall. Yvo then join you how big the painting should be and what colors it may contain. Then he goes to work. First the outlines on the wall are put and then worked forward layer by layer.
The method of Swid'art for a mural painting is characterized by:
Appointment in advance to discuss your requirements
A mural in Brabant takes approximately one day (however, depending on the dimensions and details).
I personally come by to discuss the concept and create custom fit for your device.
I am relatively quickly ready, often within a day already.
I work from pure passion and involve my clients in person as much as possible with the process; each step they get to see until the end result.
I leave no mess behind and work clean; , So no mess afterwards, as I that self cleanup and possibly drain.
My prices are always competitively priced; Everything is always inclusive of VAT and material costs.
Interesting for entrepreneurs; My prices are also deductible VAT.
I have a lot of experience in creating art and decoration, by painter- and sketching techniques. Whether you are a nursery, teen room, living room, workspace or want to decorate; Swid'art when you are at the right place!
Because it works with acrylic paint, there is hardly any odor.
Mural in Brabant, Always tailor!
When you leave a mural in Brabant, then there are no limits. See Using your selected images or photos we together what needs. You have there a free hand in. Whether you want a child playing appearance, or just want a painting of animals, trees, natural or man; everything is possible! A mural is always custom. If this is not the case, then portraits and paintings maybe an idea.
Swid'art then makes a free quotation, so you know where you stand. To give you a target; small murals are possible from € 150,- including VAT. The price may vary by the size of the mural, the substrate and details.
Mural Brabant let make!
If you want a separate mural Brabant them made by Yvo Swider for example, your room or the nursery? Please contact me!
If you have any questions, You can always contact form below. Would you prefer to contact us? Call to: 06 – 305 808 14.