Much more original than wallpaper; a mural for the nursery. A child coming, if you want a muurschildering laten maken for the nursery. Then you are at the right place Swid'art!
I like to go with you to get down to pretty murals to make. Are you looking for a nursery or baby room mural mural? A beautiful starry sky above the bed as a mural on the nursery? In Swid'art Murals everything is possible. After our noncommittal conversation, Then I go to work to produce a stunning mural. they listen to your needs in style, size and color. Also takes into account the rest of your interior. If a mural is not true in terms of wall structure, then portraits and paintings maybe an idea.
make a children's mural?
Do you want to create a mural for the baby- or nursery? Please contact me to discuss the possibilities. Think birth signs, murals for both indoor, and outside, but also paintings. Together we can assess your needs and then come to a stunning end result. you can see what you can expect on the images.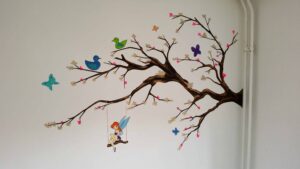 A children's mural, hoe gaat dat in zijn werk?
Before the start of a children's mural, it is important that everything clear on paper. The process is promoted as advance already has a few clear ideas, what you want to have painted on the wall. Then there considering how big the mural should be. The color and style is discussed. After that I can start working on what eventually a valuable addition to your room should be. In the first instance, the contour lines can be put on the wall in order subsequently to be able to provide the drawing of color.
What can you expect from Swid'art?
Appointment in advance to make your wishes clear map
A mural in Tilburg is usually done in one day (however, depending on the dimensions and details)
Acrylics; odorless and fast drying
Occasionally a projector is used to save time
I personally come by to discuss the concept and create custom fit for your device.
I am relatively quickly ready, often within a day already.
I work from pure passion and involve my clients in person as much as possible with the process; each step they get to see until the end result.
I leave no mess behind and work clean; , So no mess afterwards, as I that self cleanup and possibly drain.
My prices are always competitively priced; Everything is always inclusive of VAT and material costs.
What does it cost to make a children's mural?
There is no limit attached to a children's mural. Using the selected images or photos we see together how you want the mural will look like. Want a grafitti, tough teen room, or just a quiet bedroom? Nothing is to crazy ! Swid'art make your mural always desired.
Once the ideas are concrete, I will prepare a free quotation. This gives you a clear picture, what awaits you. Murals can be made from € 150,- including VAT. The price can vary in size mural, the substrate and certain details.
Now also a children's mural
If you live in Tilburg and you have a baby, children- or living the 'boring' includes walls. Then it's time for a mural of Swid'art. Do not hesitate and contact us via the form below. If you have any questions, Fill in the form below. Would you prefer to contact us? Call to: 06 – 30580814.