Here you will find a clear overview of the costs for a portrait, company logo, or mural.
For a personalized gift, you pay above € 100 = free shipping!

Portraits (incl. free standard list)
You are looking for a beautiful and unique gift. Something personal for not too much money, but with class. For birthday, a special event, or as a nice souvenir after a funeral of a loved one.
All prices are listed below including VAT, protective coating and standard picture frame.
Approximately over the internet is a deposit of € 30, requested. You can choose to pick it up, if I send them to you. In the latter case, postage settles.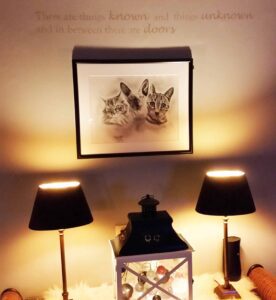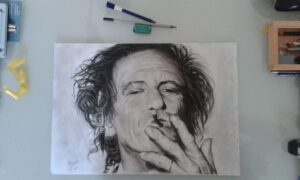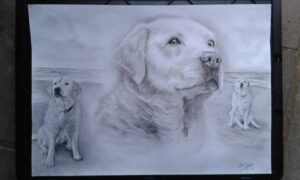 | | |
| --- | --- |
| Lijn-ets portret (20 x 30cm) | € 85,= |
| Lijn-ets portret (30 x 40cm) | vanaf € 140, = |
| Charcoal / chalk portrait (20 x 30cm) | € 75,= |
| Charcoal / chalk portrait (30 x 40cm) | from € 130, = |
In the event that more than one person to stand on a portrait, or if you want a different frame, wordt de prijs in overleg bepaald. You can choose to pick up off the portraits,
but it is also possible to send it toward you. Above € 100, = your shipping costs after all.
Paintings (abstract / realistic / artfully)
Besides portraits, it is also possible to paint a canvas in a theme / style to suit your interior. This is a very nice alternative if you do not comply walls let make the requirements for a painting, or if you for instance in the middle of a renovation, or relocation is. In addition, the benefit of a cloth that is not attached to the wall. Again, as with murals; I discuss the possibilities beforehand, price and delivery time. In this case you can come pick it yourself, or I'll deliver it personally.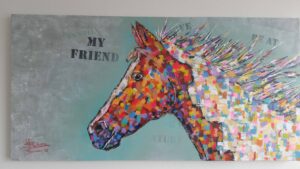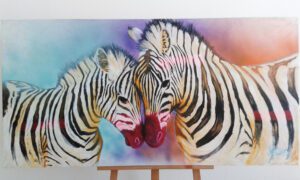 All prices are listed below including VAT (Excl. travel and parking fee).

Acryl (since 40 x 40cm)
From € 90, =
Acryl (greater than 90 x 90cm)
From € 250
Mixed media
various techniques;
acryl, watercolor, ink and pastel interchangeably.
From € 90, =
Murals
Een muurschildering laten maken is al mogelijk vanaf €150! (Excl. travel and parking fee).
Important questions that may determine charges, his o.a.
What is the size of the mural that needs to be done?
Does the design special colors, I do not have in stock?
Standing wall within, or outdoors?
The wall an issue smooth or granular structure?
How complex is the concept?
What is the travel time (0,30ct per km)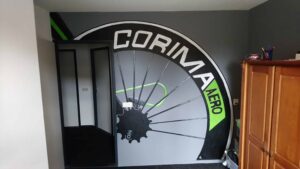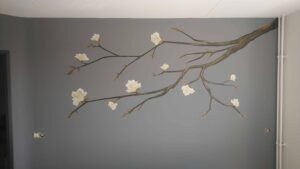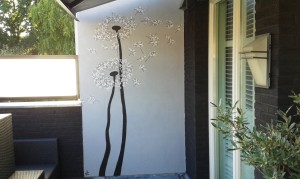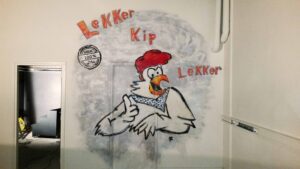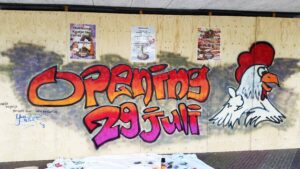 I work from pure passion and love to give you the best quality. Ik werk daarom uitsluitend op glasvezelbehang, glad gestucte muren, of glad beton. The smoother and cleaner wall, the better the result. If this is not the case? Perhaps making a personal painting then a nice alternative! Under ideal conditions, I will at least one part of the day for a small mural to up to several days are working on a large-screen mural. Please note that heating and running water must be present at the location. It is also important that the wall in question (reasonable) clean and dry.
| | |
| --- | --- |
| 1,20m x 1,20m | From € 150, = |
| 2m x 2,50m | From € 250 |
| Groter dan 2m x 2,50m | From € 350 |
Graphic design / Huisstijl
A graphical innovation for your business, sports, of hobby-club? Geen probleem!
Think of a company logo, business card and corporate identity.
De ontworpen logo's worden uiteraard ook meteen uitgevoerd in vector-formaat.
Dat wil zeggen dat het niets uitmaakt hoe groot, of hoe klein het logo ook geschaald word;
Het logo zal altijd scherp blijven!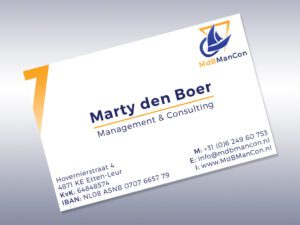 Hoe gaat Swid'art hierbij te werk?
Allereerst worden er hier een of meerdere concepten ontworpen, waaruit gekozen kan worden.
Dit eerste traject is nog vrijblijvend, als het niet bevalt is het dus geen probleem.
Mocht er iets tussen zitten wat zeker in de smaak valt,
dan werk ik het verder uit en vanaf daar kost het 30,= per uur.
(incl. de ontwerpkosten van het gekozen concept, exclusief BTW)
Interested to have something by Swid'art? Fill in the form below.